Multi-step animation
This animation will focus on fade in and up an element when it comes into the focus of the viewer.
Gallery Images
Here we keep some of our latest images and designs.
Johnthon Smith
Senior Enginer
Always find something new to learn every day
View profile
Jillian Jules
Marketing
Find new creative areas to expand
View profile
James O'Keffe
Manager
Expanding possibilities with determination
View profile
Vivian Rymer
HR
Increasing skills, determination and workplace unity
View profile
Powered by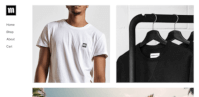 Create your own unique website with customizable templates.